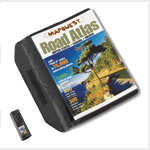 I guess it is about time to get out my road map and plan dinner for tonight. Well actually the road map I am referring to is not an atlas but a cook book. I have taken to calling recipes maps, you start at the same place but a few side trips (additions, deletions or cooking style changes) take you on a different route to your intended destination. Since running to the grocery store in not always convenient - just part of rural living really -I think it is rare that I make a recipe EXACTLY following the directions.
This is how me cooking a typical meal goes- I was reading my
Simple & Delicious
magazine and a recipe sounded good to me. The only problem is that I somehow missed the "cook for 4-5 hours" part. I also missed the other clue, the title of the article "Slow Cooked Comfort". Of course none of this would have been a problem if I was starting dinner earlier in the day instead of at 4:30 in the afternoon. Of course by the time I realized this I had many of the ingredients assembled and ready, so I just flew by the seat of my pants. So Chipotle-Marmalade Chicken in the crock pot was given a fast forward on the stove top and a few changes to the ingredients (no chili powder, but extra chipotle) to suit the taste of my family. Now I may never know what it was originally supposed to taste like, but I can tell you that the recipe I made was delicious.
Have you looked at your road map lately? There is almost always more than one way to get to your destination when cooking, traveling or just with life in general . Maybe it is time to take a break, get off the interstate, follow the back roads, take in the sites and meet some interesting people along the way. Try taking the road less traveled, enjoy the ride and see what happens. You may end up enjoying the trip even more.